There are so many ways to contribute within our communities. With thousands of charitable organizations available, it can be overwhelming deciding where to donate. For me, I reflect on my most difficult times and when I needed the most help, to help determine where I give back. That's why, in a sea of nonprofit organizations, Spare Key rises to the top. I know first-hand what it is like facing a medical crisis and how hard it is to balance the financial stress that comes along with it.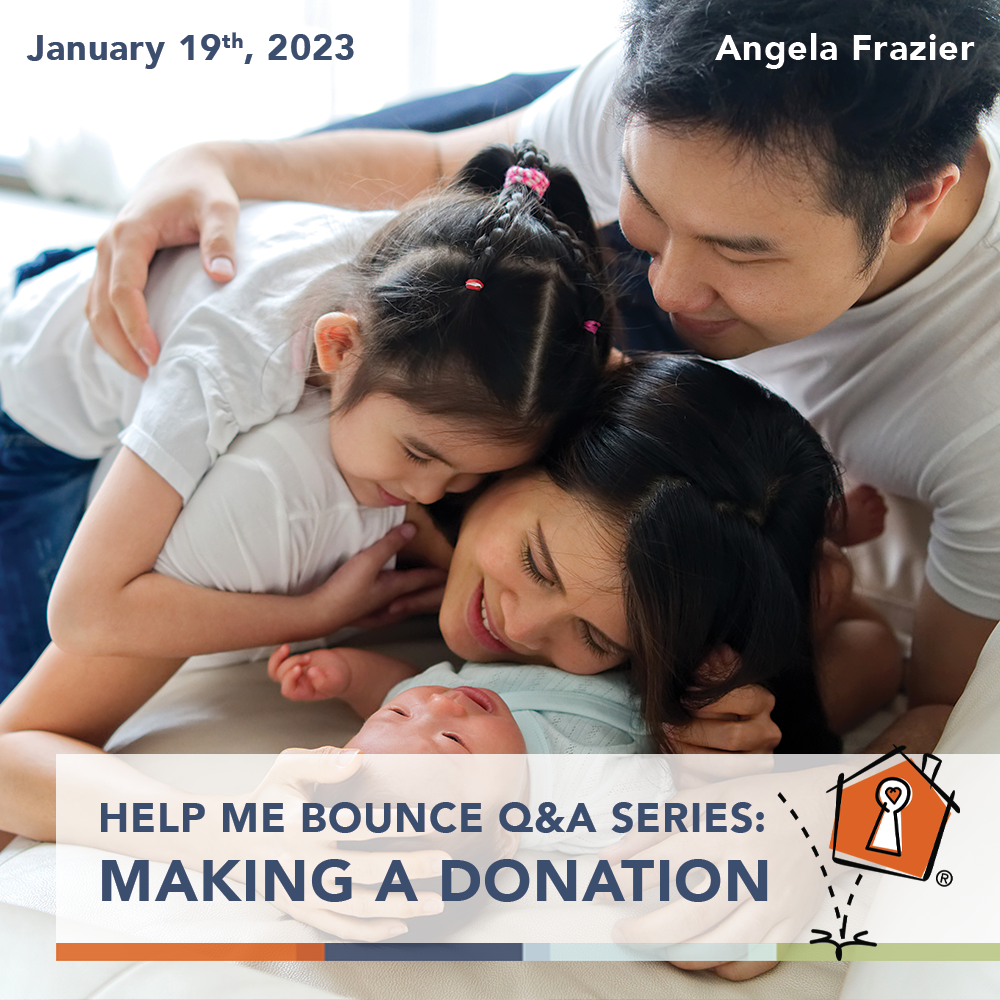 You never know when the unimaginable can happen, when your whole world can get flipped upside down. When you are faced with someone you love needing your care and attention - nothing else matters. Unfortunately, having the flexibility and financial means to miss work while you focus on what matters most isn't always an option. Your bills and financial obligations do not stop because you are facing a medical crisis. That is why our Help Me Bounce program is so important!
Now being on the other end of the situation, it is such a privilege to help families during their greatest time of need. This is why my focus for this installment of our Help Me Bounce Q&A Series is all about donations and the immediate difference they make for families. This blog is for everyone that donates: family members, friends, past recipients, and visitors to our platform!
I am excited to share this Q&A Series with you because understanding the donation process makes it easier to donate! Help Me Bounce was built to benefit both donor and the families we serve. This platform gives families the ability to tell donors exactly where the help is most needed and gives donors full control over where their hard-earned dollars go!
How do I donate?
The choice is yours! You can donate directly to Spare Key here: Donate where you can enter a one-time donation, or set up a recurring donation. Donations to Spare Key help us operate the nonprofit and support the Help Me Bounce platform! Or you can donate directly towards a specific family here: Find A Family where you can search for a specific family and what bill you'd like to donate towards. Remember - Spare Key doesn't take a cut of any donations on Help Me Bounce! 100% of your donation goes directly to the family and the bill you choose!. No matter how you choose to donate, Spare Key SO greatly appreciates your support!
Can I mail a donation into Spare Key?
Yes. Download the form here: Mail-in Donation Form and mail with your check to:
Spare Key
480 Broadway St.
Saint Paul, MN 55101
How soon can families access donations?
All donations made to a family's Help Me Bounce campaign are immediately available for withdrawal. The family can log into their account to request funds be mailed to the servicer/provider of the bill anytime there are available funds in that goal.
How do I know if my donation was processed?
You will receive a receipt by email to the email address entered when you made your donation! If you do not receive this email, you can request a copy be sent to you by emailing: support@helpmebounce.org
Can I add a message to the family when I make a donation?
We do not currently have this capability on the Help Me Bounce platform but hope to add it soon!
Can my donation be anonymous?
Yes. All donations are anonymous.
Can a family move donated funds towards a different funding goal?
No. Due to our policy and the design of the Help Me Bounce platform, we give donors the power to choose where to apply their donations. Spare Key guarantees their donation goes towards the funding goal of their choosing. Therefore, when funds come in from individual donors, we cannot transfer those donations to a different funding goal.
Can I change the information entered for my bills?
Families can always access their Help Me Bounce campaign and edit the servicer information throughout the time their campaign is published on Help Me Bounce. Just log into your campaign and within the "Funding Goals" Section, you can select "Edit" on the funding goal you would like to update.  Or you can send a request with any edits needed to: support@helpmebounce.org
How does a family's bills get paid from donations?
When funds are donated to a family on Help Me Bounce, an automated email notification goes out to the family letting them know they've received a donation. That donation is immediately available for withdrawal. The family can then log into their account to request a withdrawal. In that request, they include a bill or statement so that Spare Key knows where to mail the check. We make all payments directly to servicers or lenders of the bills so that donations are never deposited directly into a personal account.
I hope this article was able to answer any questions you may have about making donations to Spare Key. Please show your support and help our families 'Bounce and not Break'! Donating gives a family hope and the time to spend with their loved ones at a time they need it the most.
Show Your Support By Donating to Spare Key Today!
As always, please contact me personally for any additional questions: support@helpmebounce.org
Thank you for your support!
Angela Frazier
Help Me Bounce Program Coordinator