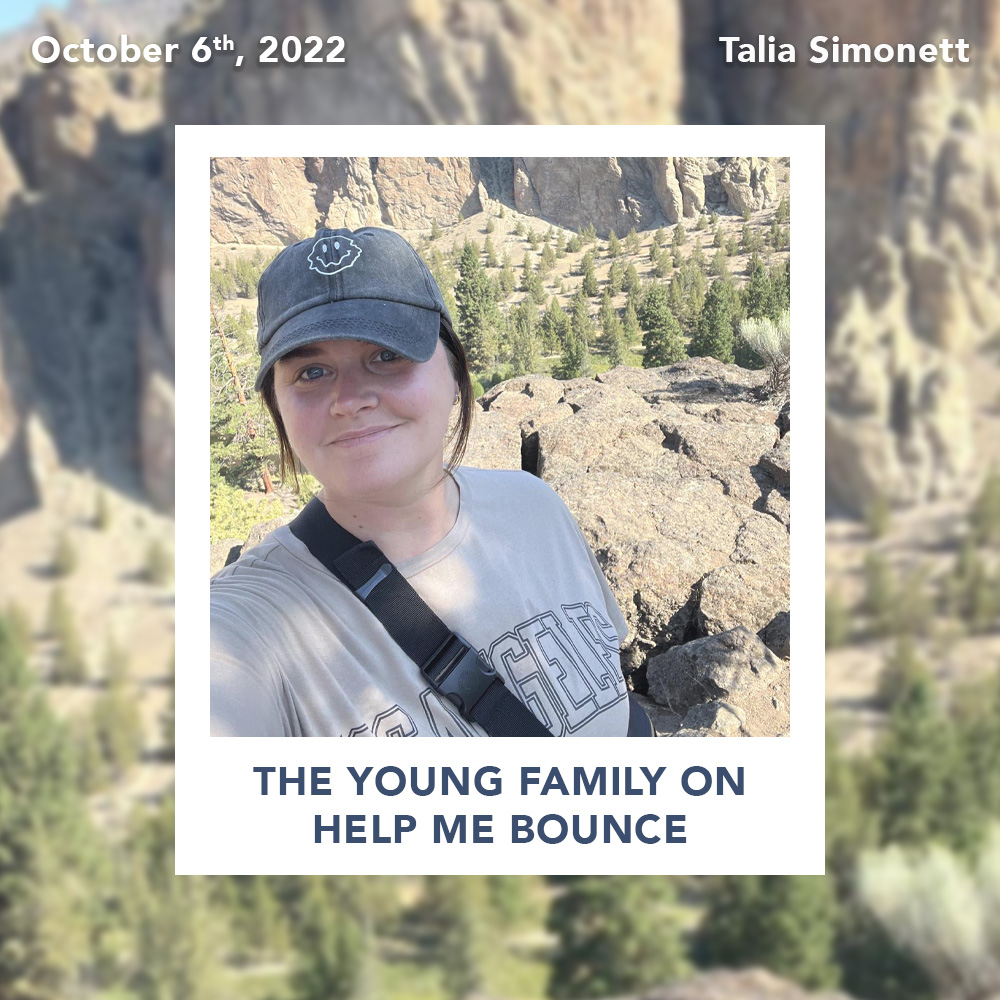 It can happen to anyone.
I started working with Spare Key in the summer of 2021 as a Marketing Intern. I'm proud to say that immediately that fall, Spare Key's Executive Director asked me to stay on full-time assisting with Help Me Bounce support, events, and marketing! In this role, my biggest responsibility was working with Help Me Bounce families to answer questions and assist in the application process.
For the next 6+ months, each day, I would log in as the Support Liaison for families – assisting them through the application process. Working with these families and listening to their stories made it clear that no matter how healthy you may be, a medical crisis does not discriminate.
This past June my boyfriend, Owen, and I went to Seattle to visit his two older sisters. During our stay, we did many outdoor activities and exploring- highly recommend visiting!
The morning we flew home, Owen's oldest sister, Courtney, felt numbness and tingling down the right side of her body from head to toe. She instantly knew something was wrong and went to the doctor. At first, the doctors were not too concerned and sent her home to rest. Later that day Courtney woke up from a nap and the numbness remained. She headed back into the ER for a second time.
After spending a few days in the hospital undergoing multiple tests and monitoring, it was confirmed that Courtney, only a month after her 30th birthday, suffered from a stroke.
It's hard to wrap my head around how just hours before Courtney suffered from her stroke, we were out to dinner celebrating our last night of Seattle adventures.
How could this be?
It has now been 3 months since Courtney suffered from her stroke. Over these past few months, she has worn a heart monitor for 30 days, undergone multiple tests, and began occupational therapy. Luckily, the only lingering effect has been her loss of peripheral vision.
Even with insurance… the ER visits, ambulance rides, hospital stays, and follow-up testing all have a price tag.
Courtney's campaign was approved on the Help Me Bounce Platform a few weeks ago and from the power of crowdfunding, she has already raised over 70% of her Medical Bills Funding Goal.
It does not matter if you are a newborn baby, a marathon runner, a young healthy teenager, or even a 30-year-old adventurous sister…a medical crisis can affect anyone.
Working for Spare Key isn't just my job. I love the work I do. I love knowing that my job isn't just a paycheck. It MEANS something. But, would I have ever imagined someone close to me would be in need of our assistance? Never.
Every family on the Help Me Bounce Platform is facing some type of medical crisis that is affecting not only their physical self but also their emotional and financial stability. Like the Young Family, these families never would have predicted the situation they are in now. You can be completely fine one second and, in the hospital, fighting for your life the next.
Spare Key's mission is to help families relieve some of life's extra stressors when they are facing the unimaginable. While facing a medical crisis, the ONLY thing a family should focus on is healing.
Stay happy,
 

Talia Simonett
Director of Events and Corporate Relations