As we come to the end of 2022, I wanted to take time to reflect on the incredible support Spare Key has received not just this year but over the last 25 years since being founded by Patsy and Robb Keech in 1997.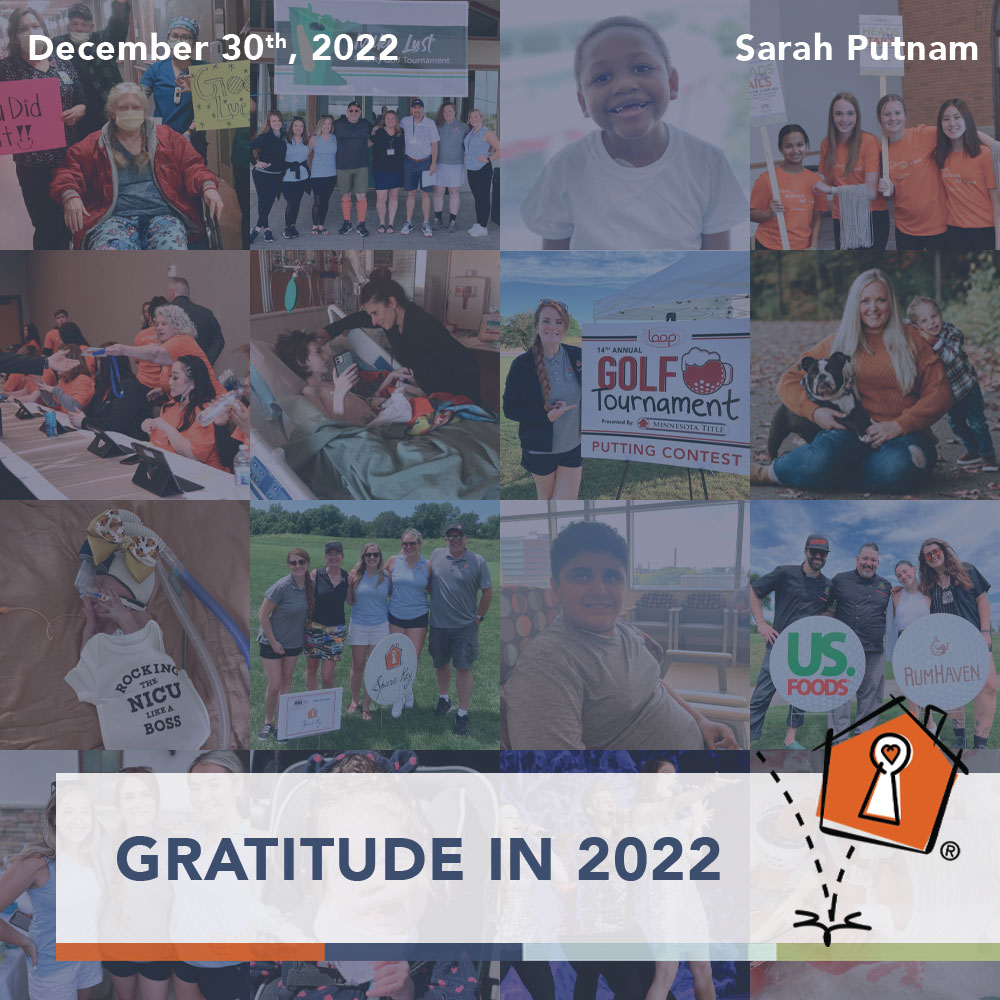 We wouldn't be where we are today – as strong as ever in our 25th year serving families without the countless individuals that have shown their support for Spare Key's mission year over year.
2022 alone has been SUCH an amazing year filled with generosity, invaluable partnerships, and extreme support for our mission of helping families facing medical crises "Be Seen. Be Heard. Be Found." by donors across the nation.
Day in and day out, our Spare Key team shows their extreme dedication, wearing every hat imaginable to run Spare Key as the nationwide nonprofit it is today.
Our Board of Directors dedicate their knowledge and expertise in every area of finance, business, marketing, legal, and countless other areas while also answering the call to help out whenever they're needed.
Our sponsors and partners consistently rise to every occasion when Spare Key hosts events throughout the year to raise funds in order to continue the important work we do serving families.
Our volunteers dedicate hundreds of hours when Spare Key needs it most at events throughout the year.
And every single one of our individual donors, both to Spare Key and to families on Help Me Bounce, ensure we further our mission of helping families facing real hardship pay real bills in real time.
How do you properly thank that level of generosity and kindness?
We hope we show our gratitude each and every day with hard work and dedication to our mission. And by continuing to grow and help more and more families each year.
Every single day our team gets to help families facing unimaginable medical crises by bringing a bit more hope in their lives.
Families like the Ferguson Family who went through unimaginable tragedy and countless challenges to get where they are today.
Watch Kelsey and Maxley Ferguson's story here.
Each day Spare Key helps families like Kelsey and Maxley through our Help Me Bounce platform and our mission wouldn't be where it is today without the support of every individual in our community of giving.
Your support helps families throughout the nation.
You help these families avoid adding a financial crisis on top of the medical one they're already facing.
And for that, we are eternally grateful.
Thank you for your support. Thank you for your generosity. Thank you for allowing Spare Key to help families "Bounce and Not Break" since 1997.
And if you are still hoping to show your support one last time in 2022, donate now to Spare Key: https://sparekey.org/donate 
We'll see you in 2023!

Sarah Putnam
Executive Director