And just like that, it's been an entire month since Spare Key hosted the 2023 Groove Gala presented by Network Title, Inc. at the Renaissance Depot downtown Minneapolis!
The night was incredible! As the full Spare Key team has wrapped up final items post-Groove, it's always fun to reflect on what went well the night of, and what events of the night stick out to each team member!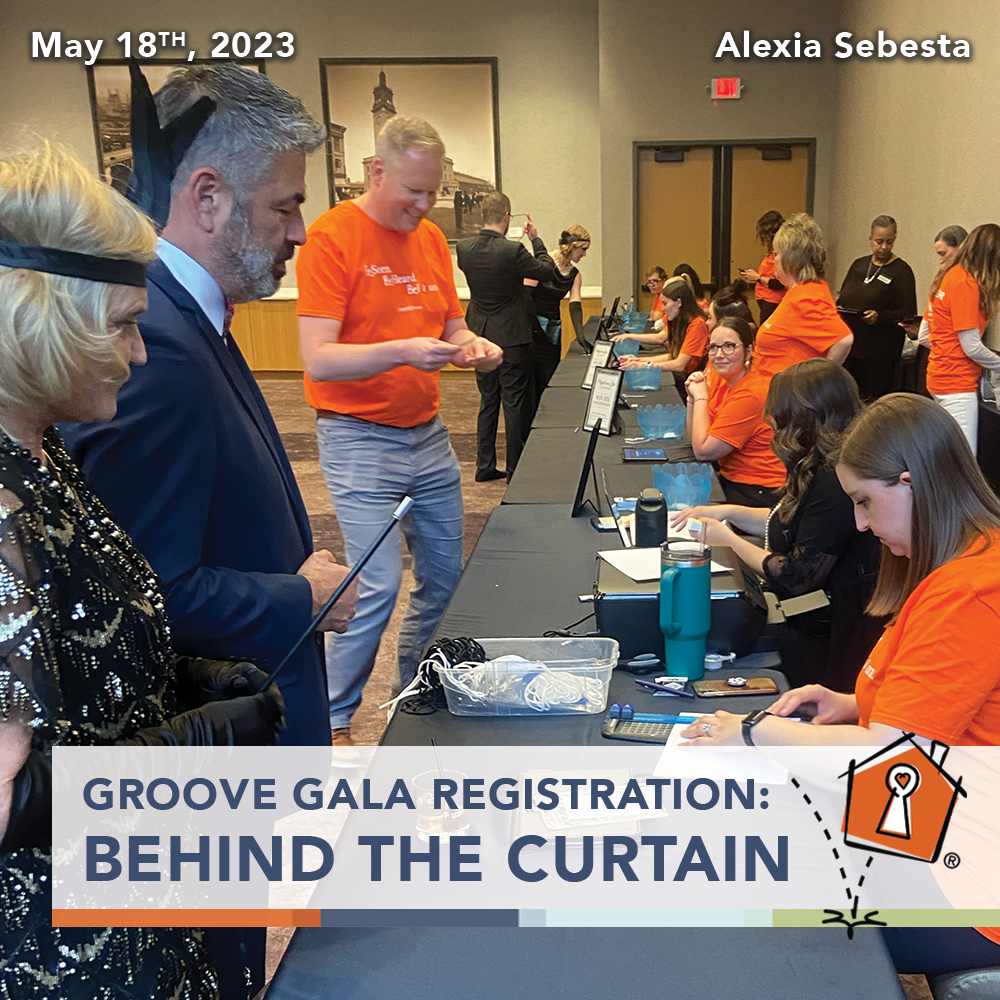 One detail of the Groove Gala many people don't think about but is near and dear to my heart is registration. Think about it… how in the world do you go about getting 600-800 people checked in for the event and then checked out at the end of the night so they can bring all the fun goodies they won throughout the evening home with them?!
The fact that you've never had to think about it shows just how much planning and dedication goes into ensuring this process is SMOOTH for attendees!
The whole process begins months before the event with the Spare Key team collecting guest names and contact information. This allows Spare Key to have name tags printed and ready for attendees at check in and, MOST importantly, it allows us to email and text important details about the night ahead of time to all those planning on attending.
Months of collecting and recording this information, creating the name tags, having them printed and cut, auditing them multiple times to catch any possible errors, and finally putting them all together, all adds up to our stellar registration team being able to provide our guests with a quick and easy check in process.
Then while the program is in full swing and attendees are enjoying dinner, entertainment, and an incredible live auction, our check out team is hard at work behind the scenes. Volunteers and team members are busy sorting through silent auction winnings and game prizes to ensure everyone can quickly receive anything they won throughout the night when they check out!
It is quite the undertaking!
However, all the planning and preparation in the world could not make this huge undertaking happen so smoothly if it weren't for our world class volunteers!
Every year I love seeing familiar faces of volunteers that have chosen to come back year after year to help us make this event a success.
We are so incredibly lucky each year to have volunteers that have heard about Spare Key through community connections and the companies they work for. We are also extremely grateful for the volunteers that return each year who received assistance from Spare Key in the past. It's always inspiring to catch up with these individuals and hear their stories and life updates!
This is true not only with our volunteers but with our attendees as well!
Each year it is wonderful to see return sponsors, supporters, and our amazing past and present board members return to the Groove each year and help us celebrate how far Spare Key has come and where we plan to go! I love putting faces to names and expressing my appreciation for all their support.
From volunteers to supporters, it is so gratifying to see them all have such a fantastic time that they choose to come back and do it all again with us year after year.
That support and willingness to lend a helping hand in whatever way they can is what makes the massive undertaking of Groove Gala's registration and check out a success and allows our guests and volunteers to have the best evening no matter what side of the table they are on!

Alexia Sebesta
Chief Financial Officer