Spare Key has hit the ground running, planning some of our best fan-favorite and festive events!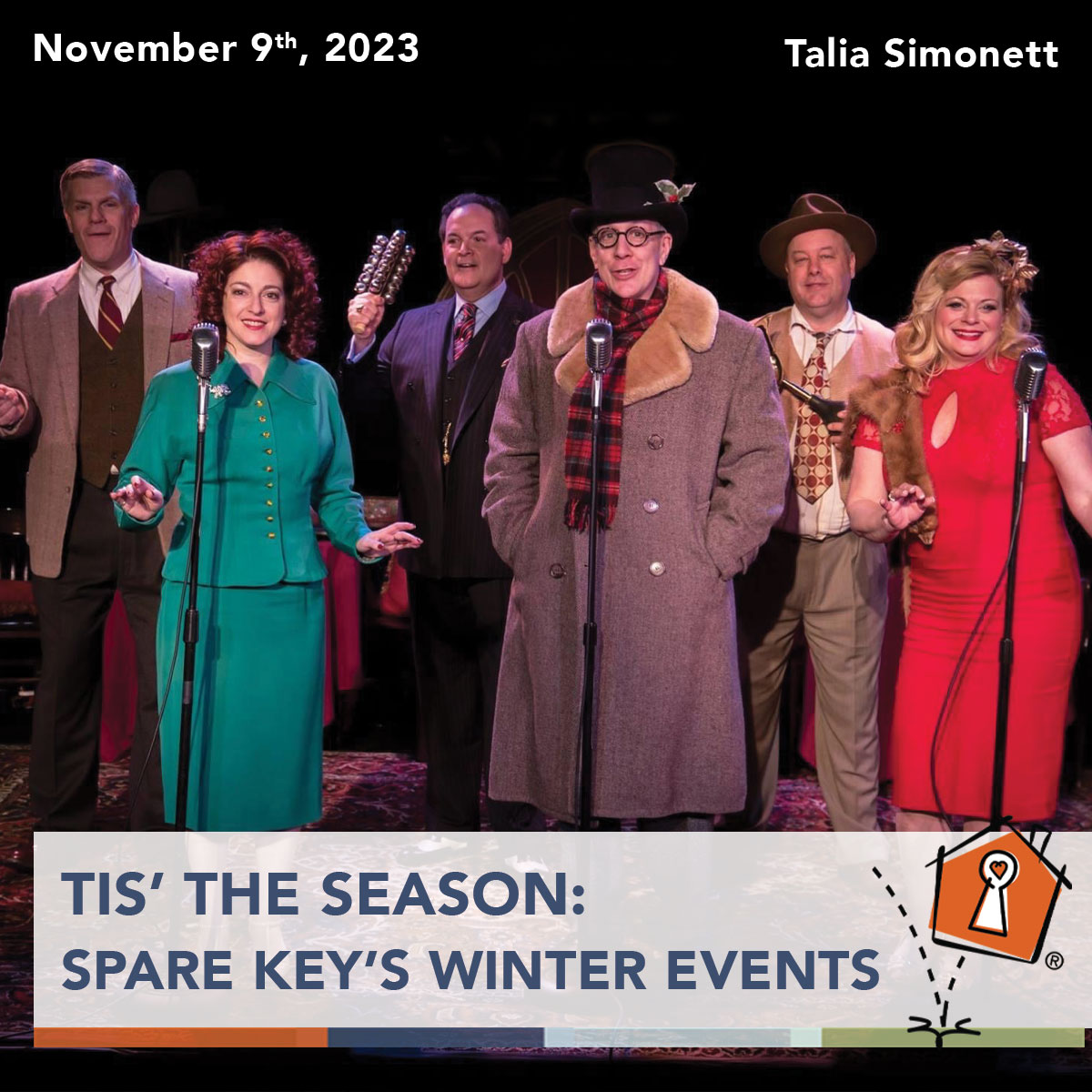 2023 Give to the Max Day: NOVEMBER 16TH
Kicking off in ONE WEEK, Spare Key is celebrating Give to the Max Day on Thursday, November 16th! This day is a state-wide celebration in Minnesota aimed at supporting your local nonprofits. We plan to utilize our social media platforms to amplify the cause of Spare Key and engage in community service by cleaning the adopted Spare Key Highway!  
If you're just as eager as we are and cannot wait to donate, don't worry because early giving started November 1st!  Don't hesitate…click HERE to donate TODAY! Donating early provides Spare Key extra opportunities to win additional raffles given by GiveMN each day before Give to the Max Day!
It's A Wonderful Live- A Live Radio Play: DECEMBER 8TH-23RD
Spare Key is partnering once again with The Saint Paul Hotel for the production of It's a Wonderful Life: A Live Radio Play, presented by Hiway Credit Union. This year, we are celebrating the 17th anniversary of this timeless holiday story! The touching tale of George Bailey has become a cherished tradition for many families and has grown to be a personal favorite of mine as well!  If you haven't had the chance to witness the live performance, now is your opportunity! The shows will take place from Thursday to Sunday, from December 8th to 23rd, with a matinee and evening show on all days. Tickets sell FAST, so don't wait to purcase tickets for the whole family!
We are incredibly honored to have Hiway Credit Union as this year's Presenting Sponsor! Hiway Credit Union has been such an incredible partner and supporter of not JUST Spare Key throughout the years, but to the local communities they serve. They truly live by their message of "With you on the road of life" by giving back to the community and staying involved in what's most important to their clients.
Will you join us at this timeless holiday tradition?
A member of the Spare Key Team and/or Board Member will be present at each show, warmly welcoming guests and spreading awareness about Spare Key!  The It's A Wonderful Life: A Live Radio Play performance is also a great opportunity to give back. Spare Key will be collecting donations to support our mission by assisting families facing a medical crisis to pay their everyday bills. So not only will you have a fun-filled day, but you'll also be making a difference in the lives of those in need.
Click HERE  to check out the schedule and secure your tickets! Tickets sell quickly, so make sure to grab yours before they run out!
Cookies with Santa: DECEMBER 10TH
Mark your calendars… Cookies with Santa is scheduled for December 10th from 2-4 p.m at Hiway Credit Union! Cookies with Santa is one of the most anticipated annual events hosted by Spare Key and it's just around the corner. This delightful event is perfect for families and children of all ages needing a little more holiday cheer.
The main highlight of the day is, of course, meeting Santa Claus himself. Children have the opportunity to get up close and personal with the jolly old man in the red suit and have their picture taken solo or as a family! In addition to meeting Santa, there's always an array of delicious cookies to enjoy and something to satisfy everyone's sweet tooth! Each year, we have crafts and Christmas movies playing, AND every child that attends gets to leave with a toy of their choice!
Put on your holiday spirit and join Spare Key on December 10th for an afternoon filled with cookies, presents, crafts, and the chance to meet Santa Claus himself. This day is truly a magical experience that you and your family won't want to miss!
We are asking all families who plan on attending Cookies with Santa to sign up through this link so we can get an accurate head count for those joining in on the fun: https://www.signupgenius.com/go/4090E4EA5A92DA0FA7-45940867-2023#/
Stay warm!

Talia Simonett
Director of Events and Corporate Relations